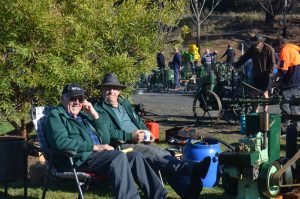 I call it the fun run weekend, as the fun & comradeship we have is second to none.
Turn – out from the members with the help & exhibits was great.
Lloyd Tunbridge – Furphy Farm cart, Lister engine, L.A. International engine.
Kevin Reeve – Bern Smith Drag saw and other memorabilia.
John Booth – 1902 – 1961 McCulloch chain saws, 1952 Bern Smith Drag saw, Ronaldson Tippett Drag saw.
Fred Harris – McDonald SPI 4 H.P. 1957 engine driving Twin cylinder Water Pump.
Lister D 1920 engine driving Ajax 1 1/2 Water Pump 1941, Lister diesel engine driving IBC Pump 1941, Lister A engine driving Ajax D Pump 1940.