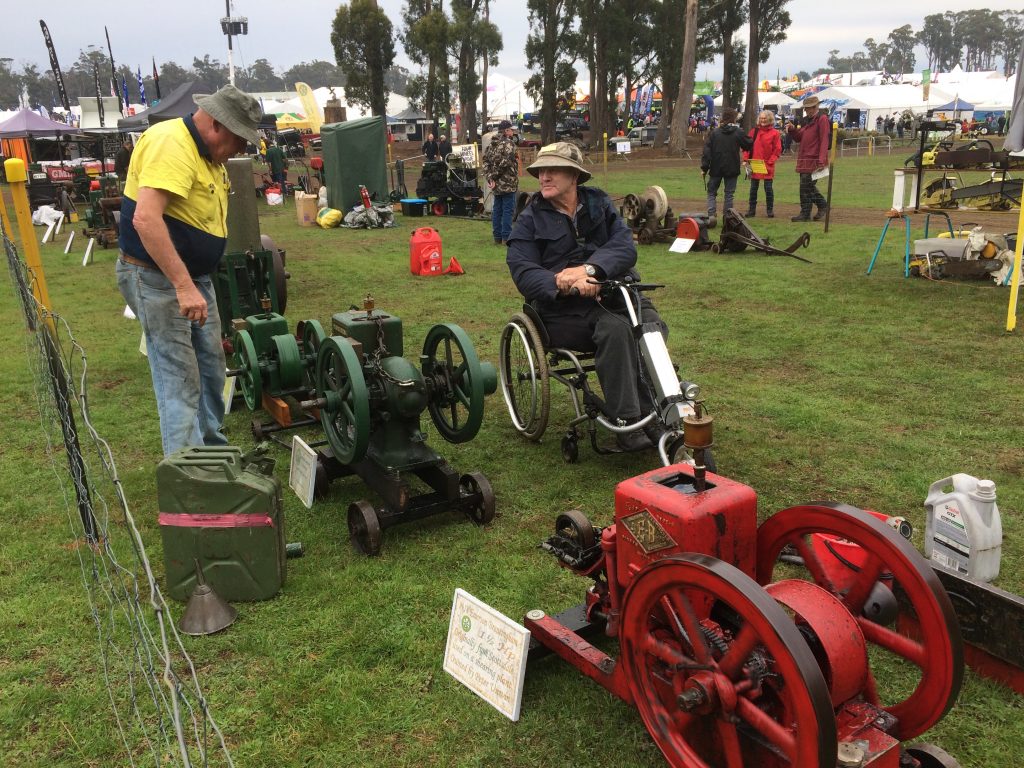 To see more pics click on the photo
What a great 3 days we had and such a line up of members displaying their collection. The weather was good, a few spits but not enough to dampen our spirits.
Lloyd Tunbridge: International Pig 1937 1.5 – 2.5 hp, Rosebery 2 hp, Lister L,
Jeff Springer: Lister J
Richard Edmunds: Mini Landrover 5⁄8 scale, 1925 Sunbeam Tiger 5⁄8 scale, Crankless Engine 985cc 5⁄8 scale, Fowler VF 1⁄2 scale
Derrel & Karyn Haines: Bern Smith dragsaw with Villiers motor, 1940s Breville washing machine, Draught horse harness collection, various tools.
John Booth: 1952 Bern Smith dragsaw, 1940 Ronaldson Tippett dragsaw, air cooled 2 3⁄4 hp model NA, various chainsaws, 1952 Mobilco tree feller machine.
Harry Nolan: Cooper N 3 hp, 21 chainsaws,
John & Cindy Spencer: Trewhella Bros log winch, International Pig, Sandstone grinding wheel, 1900 Steam Air engine, Wooden pulleys, 1950 Pulford Air compressor, 1950 Air cooled diesel engine, 1910 Steam engine
Verne Reeves: Cooper Hit & Miss, International Pig 5 hp , Petter 6 1⁄2 hp
Duncan & Alex Mantje: various Villiers motors
Andrew Lyne: 1949 Francis Barnett "Merlin" motorbike, 1935 BSA Model W35-7 motorbike, Lister Model J 3 hp 3 stand sheering plant, Lister H 2 hp, Robson Sawbench, Chainsaw, 1920s Argson Engineering battery powered wheelchair.
Nicholas Mantje: International ART 3, Lister D, Rosebery 4 hp, Ronaldson Tippet 4 hp, CS Lister 31⁄3 hp, Ajax open gear pump 3' bore 5" stroke, Jap 2A 1 – 11⁄2 hp
Peter Unwin: Lister 5 hp, 1926 Roseberry 2 hp, McCormick Deering made by International Harvester 11⁄2 hp, 1918 Emerson Brantingham 11⁄2 hp, various lawn mowers, Whippet car
Wayne & Deb Wood: Various memorabilia & hut.
David & Judy Burk: Moffat Virtue 2 1⁄4 hp driving Air Compressor and Air Compressed engine, Deutz engine 11 hp, Roseberry open crank water pump 4" x 5"
Ian Clayton: Goulds pyramid 4" x 5" double action piston pump, Various farming tools, Dawn 611 hand operated post drill, Ajax A 1.5 double action piston pump, Ajax milk pump, Simplex milk pump, Macson 1.5 double action piston pump, The Globe bench / post hand drill.
Brian Ling: 1928 Cooper twin head shearing plant, bullock yokes, home made spanner gate.
Rex Woodberry: Various small crop equipment
Phil Burrows: Fertiliser spreader May & Co horse drawn
Rick Diprose: 1938 Allis Chalmers B Deluxe
Stephen Scott: Dumper, Howard Rotary Hoe, Ransomes MG6 Tractor
Lyn Richards: 1947 Aveling Barford Calfdozer, 1929 Model A Ford Roadster
Heather & Graham Howard: 1954 Farmall Super AV
Paul Gillam: B250 International
Verne Reeves: 1952 TE 20 Ferguson tractor
Duncan Mantje: 1944 McCormick Deering W4
Alex Mantje: Farmall Super A
Greg & Trudy Spencer: 1970 International 564
Gerard Gelston: 1946 John Deere Model BR
Colin & Martin Jones: 1945 McCormick International W4, 1990 265 Case International offset high clearance, 1943 McCormick International WD9, 1950 Field Marshall Series 111, 1959 International 660, 1967 McCormick Deering 434, 1951 Case Model D, 1970 International TD6B Bulldozer, 1960 McCormick International B275 Orchard.
David & Thomas Elson: Allis Chalmers Model 710, 1968 Massey Ferguson 110, 1974 Allis Chalmers 440, 1954 Howard DH226, 1936 McCormick Deering W30
Rex Woodberry: Allen Oxford Cultivator + drivers seat + trailer + pumpkin.