Longford Show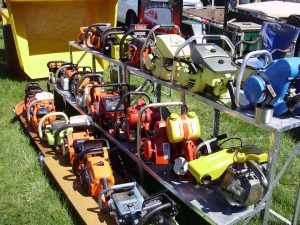 Well what a great show this was, it was great that we had such a variety of machines on display and well attended by our members from all over as this turned out to be not only a show of engines but a social gathering as well.
Those in attendance.
Fred Harris, Graham Howard, LLoyd Tunbridge, Brian Ling, Trevor Cowan, Tom &Barbara Moore, David & Judy Burke, Niel Broomhall, Harry Nolan, Rodney & Alison Springer, Derrel & Karyn Haines, John Booth, Nigel Boyd and Jeff Springer.
Machines on display.
Tractor x1, Dragsaw x1, Oxford Sythe x1, Train Display x1, Chainsaws x24, Dump Truck x1, Lister Engines x3, Tangye x1, International lb x2, Moffat Virtue driving a air compressor x1, McDonald x1, Southern Cross and blower x1, Sundial x1, Trewhella Jack x2, Lister and Magson piston pump x1, J.A.P. and IBC pump x1, McDonald and pump x1, Listr and pump x2.
May your crank handles keep turning.