Bus Trip To West Coast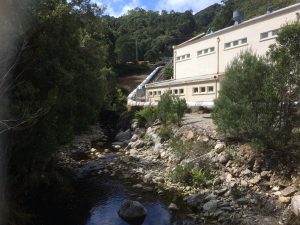 Our first stop was at the Zeehan Museum. What a wonderful place this is. Pity we did not have the time to spend longer here, never mind another trip down coming up!
One member was taken pity on by the Jehovah Witnesses who were having their lunch next door to the museum. He must have looked very hungry as they gave him a free lunch. He was disappointed though as he did not get a magazine to read.
Next stop was at the Lake Margaret Power Station.
In 1911 the Mount Lyell Mining and Railway Company decided to make more extensive use of electricity in its smelting operations in Queenstown. It selected Lake Margaret, a small lake high up on Mount Sedgwick as its catchment area. In 1911, construction of a dam was commenced. The water was originally conveyed from the dam via a 2.2 kilometres (1.4 mi) wood stave pipeline. On 30 June 2006 the Lake Margaret Power Station closed, due to the cost and increasing difficulty of maintaining the decrepit King Billy Pine pipeline however in June 2008 a decision was made to return the Lake Margaret Power Station back to operational capacity. After an overnight stop at Queenstown we headed off again. Fog made visibility very limited as we travelled Victoria Pass but this in reality just added to the scenery.
The leach stories were told in abundance when we stopped at the Franklin river for a cuppa.
As usual Dudley entertained us with his commentary and occasional joke.
Our last stop was at The Wall at Derwent Bridge. The skill and workmanship is just amazing. The longer you sit and admire the more you see. The carvings tell the history of Tasmanian Highlands, the workers of the Hydro-Electric Scheme as well as environmental issues.
Once again our driver James and tour guides, Dudley and Kate, gave us a memorable weekend.