Open Day September 2016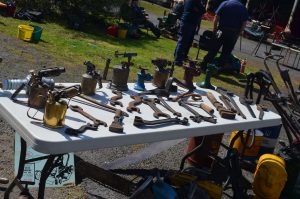 Thankyou to the club members who gave their time & effort to spring clean the club rooms & grounds, A job well done.
Well the season of our events has crept up on us again, so we began with a
FUN RUN WEEKEND at the club rooms, Penguin.
The usual members arrived with their tractors, engines, pumps, & various tools.
Each & everyone have been busy over the dreaded winter,
Nigel ( Boyd )- very creative hand built Model Steam Ship, from scale, Old Train carriages & variations.
Pat & Heather ( Harris)- A- 2 Ajax Water Pump, Moffat- Virtue Petrol engine, Push lawn mowers Tools, little Tomahawk & chain saw.
Fred ( Harris ) – Mc Donald Motor & Water Pump.
Brian ( Scott ) – Lister Engine, Briggs & Stratton engine driving a A- 2 Ajax Water pump, Peters England engine, Various lawn mowers.
Joe & friend – from Bits & Pieces from Hobart, welcome. Sundial 2 H/P , 1937 – 593 model Pump, Fairbanks Morse- model z 3 H/P. U.S.A. 1922, Separator engine 1/2 h/p on carrousel U.S.A. 1913, Budda 1910 Railway ( fetlas wagon engine.
David & Judy ( Burk. ) – A.H.McDonald Diesel 4 H/P, Seed Sower Planet JR no.4, Seed Sower, 2 Lawn Mowers,
Ray ( Harris. ) – Diesel engine.
Barrie ( Rawson.) – Lawn Mower & small engine collections,
Tom & Barb ( Moore.) – Drag Saw, Ronaldson Tippett engine driving old Skim milk Pump.
Neil ( Broomhall.) – Champion Cement Mixer driven by 2 1/2 h/p. Champion engine, ( Rosebery ), small J.A.P. engine driving alternator, push lawn mower
Kelvin & Joan ( Fielding.) – 3 Lawn Mowers, Hand Pump,
Rick ( Diprose.) – Peddle Mower Blade Sharpener, Alice Chambers C model.
Graham & Heather ( Howard.) – (2) Lister engines.
Brian & Kaye ( Ling.) – Range of various tools.
Derrel & Karin ( Haines.) – David Brown 1955.
Percy ( Kingsley.) – Massey Ferguson model 135
Phil ( Whittle.) – John Deere model A R,
Wayne & Deb (Wood.) – Little Trappers Hut.
Lyn & Greg ( Richards.) – 1946- 47 Aveling Barford Calfdozer model CD 2 (?)
Phil (Weeks.) – Mogul Tractor.
Rex ( Woodberry.) – 2 Hand Manual engine Mowers, Allen Oxford Motor Scythe, Victor Mowers, chain Saws, (2) Mowers & Whipper Snipper, Germany A.L. Schmidt Jack, Garden tools, Ajax Pump, Drill, Spa with a doll that spat her dummy as the water was too cold, Simac hand water pump.
David & Gloria ( Perry.) – Massey Ferguson 165, Massey Ferguson 30, Lister 3 1/2 h/p motor driving a Spud Digger & Planter.
Vern( Reeves )& grandson Nicholas (Mantje.) – International Pig 4- 5 horse, Pedder Diesel engine, which gave the men something to ponder over, decided to give them all a head- ache on Sunday. (Picture below), Cooper Petrol engine 3 H/P, Villiers Mark 10, Winconsin 3 H/P. engine. Great to see the younger generation interested.
Believe as Gloria was retiring for the night she had a small tumble, or David was it your fault ?
Which was the worst, the pride or bruises? Trust all is well now.
Trust you are in reasonable comfort Marj, & everything will be fine after your opp.
Great to see our past President Ian Bessell back from the Lakes for a visit, looking well.
Saturday evening we enjoyed a casserole & sweet meal, to finish the day, which was enjoyed by all,
We even wished our very valued member Kate a Happy Birthday while she blew out the candles.
We would like to see more members at these events, as its getting to be the same exhibits all the time,
I'm sure there is some very interesting old machinery tucked away in your sheds that would bring back memories to the public, so how about giving it a bit of spit & polish & come along to enjoy our fun, looking forward to seeing you.
Thanks again to the members that enjoyed our weekend.
Apologies to any exhibitor I've missed, or exhibits I've missed.
Barb Moore.